Critical Interfaces: Sales, Marketing, and Customer Success
Feb. 25, 2021 by David Ellin, Chief Customer Officer and Senior Consultant, Centric Leadership Strategies
How can Marketing, Sales, and Customer Success teams collaborate to benefit your company and your customers? Here are 5 key interfaces necessary to drive great customer success.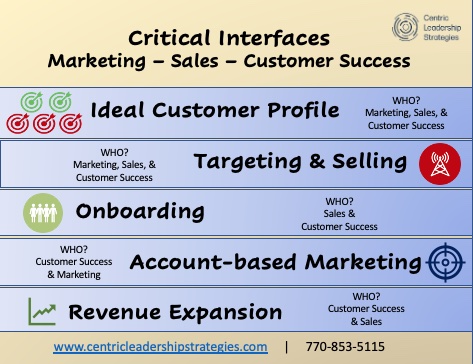 1 Create an Ideal Customer Profile (ICP)
Interfaces: Marketing, Sales, and Customer Success
Customers must receive value from the products and services they buy or they'll go elsewhere. The Ideal Customer Profile describes the profile of customers who can likely receive the most value from your products. It is used to align Sales & Marketing so they can identify and attract customers who best fit your products. I also recommend including the Product team. They will have great input about the types of companies for whom the product was developed. When using an ICP, you'll likely minimize product customization, reduce support costs, and drive higher retention.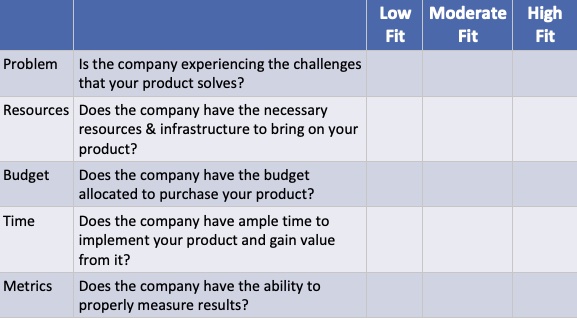 2 Targeting and Selling
Interfaces: Marketing, Sales, and Customer Success
Once the ICP is developed, your Marketing team can target the right markets and Sales can optimize their time by selling to the right companies. During sales review meetings, Customer Success should participate as a sounding board for the prospect's "fit" to your products.
This collaboration is crucial because your Customer Success team has to live with the customer after the sale. If your Sales team is selling customers who are not a good fit, Customer Success will struggle to keep the customer happy likely resulting in churn.
3 Onboarding
Interfaces: Sales and Customer Success
Onboarding is the first post-sales experience your customers will have. The Onboarding experience often sets the tone for the relationship and has the ability to drive engagement, early adoption, time-to-first-value, and a strong relationship.
Prior to the start of the Onboarding process, it's vital that Sales and Customer Success collaborate for a smooth, issue-free handoff. Your Sales team must share accurate information as to why the customer purchased your product – what problem(s) they're trying to solve, the customer's desired outcomes, and the player landscape (who's who in the customer's organization). When Onboarding doesn't go well, it's often due to a poor handoff which creates gaps in the customer experience.
4 Account-based Marketing
Interfaces: Customer Success and Marketing
Account-based marketing is a great way to drive product adoption. By designing and feeding informative content to your customers based on their maturity stage and the products they've purchased, you have the ability to highlight features and functionality, and the value they can deliver to your customers.
Additionally, account-based marketing enables your marketing team to deliver timely and relevant content to your customers based on the products they've purchased, their maturity with your company, and their additional needs. Your CSMs should work with your Marketing team to identify potential growth opportunities so Marketing can design and deliver the right content to the right customers at the right time.
5 Revenue Expansion
Interfaces: Customer Success and Sales
Most Customer Success teams are responsible for identifying revenue expansion opportunities. In some cases, CSMs have commercial responsibility for negotiating and closing up-sells. In other companies, CSMs feed expansion opportunities to the Sales team. The debate about whether CSMs should have commercial responsibilities is a topic for another conversation. For now, we'll simply focus on the collaboration necessary between Sales and Customer Success.
There are two important aspects to collaboration around revenue expansion. First, when your CSM refers growth opportunities to Sales, it's extremely important for the Sales team to understand the current state of your customer's business, their perception of your company (NPS, CSAT), history with the product (products used, adoption, support tickets, prior expansion), and new problems your customer is trying to solve. Without that information, the effort will appear like a shallow attempt to sell instead of a value-driven way to solve the customer's problem.
Second, when your CSM handles the expansion opportunity, it's still valuable to share the expansion opportunity with the Sales team by explaining your customer's situation and their new problem. The Sales team can use the information to identify companies similar to your customer, see if they're facing the same problem, and build the product or feature into the initial sale. It also keeps the Sales team up to speed on changing issues in the market.
Summary
Building solid interfaces between Sales, Marketing, and Customer Success will position your company to increase retention and lifetime customer value. More specifically, you'll tear down silos, drive higher customer satisfaction, and deliver more value to your customers resulting in greater retention and revenue growth.
Have questions or want more information. I can help. Feel free to reach out by clicking here.